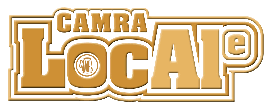 LocAle is a CAMRA campaign that promotes local beer in local pubs so it's good for the drinker, the pub and the brewers. In the York branch we define LocAle as beer brewed within 25 miles of where it is sold.
York CAMRA offers LocAle accreditation to pubs who commit to selling, at all times, at least one beer brewed within 25 miles of the pub. We provide leaflets, posters, pump toppers, window stickers and beer mats to help drinkers spot a LocAle pub and give the pubs publicity both here on the website and in our quarterly newsletter Ouse Boozer.
For drinkers: All the current accredited LocAle pubs in the York CAMRA branch are shown on the map and list below. When you are in the pub, look out for pumpclip toppers carrying the LocAle logo.
For licencees and publicans: If you are interested in becoming a LocAle accredited pub then please get in touch with our LocAle Officer
LocAle pubs list & map last updated 25 March 2014.
Ackhorne, 9 St Martins Lane, YO1 6LN

Aldwark Arms, YO61 1UB

Artful Dodger, 47 Micklegate, YO1 6LJ

Black Bull, Main Street, YO19 6JP

Black Horse, 42-44 The Village, YO32 2PJ

Black Horse, Newton Road, YO61 1QT

Blacksmiths Arms, 56 The Old Village, YO32 9RB

Blacksmiths Arms, YO60 7RJ

Blacksmiths Arms, Main Street, LS25 6HJ

Blue Bell, 53 Fossgate, YO1 9TF

Blue Boar, 5 Castlegate, YO1 9RN

Boot & Shoe, Main Street, LS24 9PR

Brigantes, 114 Micklegate, YO1 6JX

Coach House Hotel, 20/22 Marygate, YO30 7BH

Dawnay Arms, Main Street, YO30 1AB

Dawnay Arms, Moor Lane, YO30 2BR

Deramore Arms, Main Street, YO10 5EA

Drovers Arms, YO8 5SF

Edinburgh Arms, 25 Fishergate, YO10 4AE

Exhibition, 19 Bootham, YO30 7BW

Fauconberg Arms, YO61 4AD

Fenton Flyer, Main Street, LS24 9RF

Ferry, 2 King Street, YO8 3TL

Ferry Boat Inn, YO19 6DD

Fleece, 47 Main Street, YO42 1RU

Forresters Arms, The Square, YO61 4AH

Fox, 169 Holgate Road, YO24 4DQ

Fulford Arms, 121 Fulford Road, YO10 4EX

George & Dragon, Main Street, YO8 8QA

George Hotel, Market Place, YO61 3AD

Giant Bellflower, 47a Gowthorpe, YO8 4HF

Golden Ball, 2 Cromwell Road, YO1 6DU

Golden Lion, Main Street, YO61 2NT

Golden Lion, Barugh Lane, YO17 6UZ

Greyhound, 82 Main Street, YO19 6TE

Guy Fawkes, 25 High Petergate, YO1 7HP

Habit, 40 Goodramgate, YO1 7LF

Jolly Farmers, Main Street, YO17 9SA

Jolly Sailor Inn, Market Place, YO8 3SR

Kings Head, High Street, DN14 7HT

Lamb & Lion, 2-4 High Petergate, YO1 7EH

Last Drop Inn, 27 Colliergate, YO1 8BN

Lysander Arms, Manor Lane, YO30 5TZ

Maltings, Tanners Moat, YO1 6HU

Meltons Too, 25 Walmgate, YO1 9TX

Moors Inn, YO62 6TF

Nelson Inn, 134 Ousegate, YO8 8BL

New Inn, Main Street, YO61 1HQ

New Inn, YO18 8HH

New Inn, York Road, YO8 6NN

Oak Tree, Raskelf Road, YO61 2PH

Oddfellows Arms, 40 Low Street, LS25 6BA

Old Black Bull, North End, YO61 3LF

Old Ebor, 2 Drake Street, YO23 1EQ

Old Sun Inn, Main Street, LS24 8EP

Old White Swan, 80 Goodramgate, YO1 7LF

Olde Starre Inn, 40 Stonegate, YO1 8AS

Olympia Hotel, Barlby Road, YO8 5AB

Orchard Inn, Low Street, YO61 4QA

Pitchside Bar, York City Football Club, Bootham Crescent, YO30 7AQ

Punch Bowl, 7 Stonegate, YO1 8AN

Punch Bowl, 5-9 Blossom Street, YO24 1AU

Red Lion, 2 Merchantgate, YO1 9TU

Rook & Gaskill, 12 Lawrence Street, YO10 3WP

Royal Oak, 18 Goodramgate, YO1 7LG

Slip Inn, Clementhorpe, YO23 1AN

Snickleway Inn, 47 Goodramgate, YO1 7LS

Spotted Ox, Westfield Road, YO26 7PY

St Vincent Arms, Main Street, YO41 4BN

Stone Trough, YO60 7JS

Tap & Spile, 29 Monkgate, YO31 7PB

Theatre Royal, St Leonard's Place, YO1 7HD

Three Swans, Church Hill, YO8 4PL

Three-legged Mare, 16 High Petergate, YO1 7EN

Unicorn, 15 Bondgate, YO8 3LX

Victoria, 1 Heslington Road, YO10 5AR

Volunteer Arms, 5 Watson Street, YO24 4BH

Wadkin Arms, Cliffe Road, YO8 5HU

Waggon & Horses, 19 Lawrence Street, YO10 3BP

Wheatsheaf, Main Road, YO8 8LJ

Whippet Inn, 15 North Street, YO1 6JD

White Bear, Main Street, YO61 1JU

White Horse, Main Street, LS24 9RF

Wombwell Arms, YO61 4BE

Yorkshire Terrier, 10 Stonegate, YO1 8AS